Written by Niz on July 4, 2009 – 4:16 pm -
Iran sometimes seems like a nation in a perpetual state of revolution. In the early 20th century, between 1905 to 1911, there was the Constitutional Revolution which gave birth to a Constitution with constitutional rights for the people of Iran, the creation of a parliamentary system and a constitutional monarchy.
In 1963, the nation witnessed the White Revolution where the Shah of Iran - Shah Mohammad Reza Pahlavi – non-violently made a series of progressive economic and social reforms. One consequence of the reforms was that it antagonized the clergy and landed elites. This ultimately led to the 1979 Iranian Revolution,  arguably the nation's most notable revolution, which saw the Shah of Iran being overthrown. (Notable also because of the many books, such as Azar Nafisi's Reading Lolita in Tehran : A Story of Love, Books and Revolution and Afschineh Latifi's Even After All This Time : A Story of Love, Revolution and Leaving Iran, and movies, such as Martjane Satrapi's Persepolis (although it was a graphic novel before it was a movie),  were made to convey the upheavals caused by that particular revolution.)
Then there is the recent 2009 Iranian Election Protests where civil unrest followed suit after the results of the 2009 Presidential Elections were announced. To date, over 200 people were arrested, militia violence appears to be running unchecked and as yet, the number of casualties are unknown.
Granted, it doesn't take too much intelligence to consider why foreign countries would prefer to have a destablised Iranian government as a nuclear-able Iran would be a game changing event for Middle Eastern politics. So in that sense the authorities allegations of foreign involvement cannot be simply dismissed. Nevertheless, the violence presently ravaging the country and the people of Iran is something to be deplored against.
So, let's hope good sense prevails. In that spirit, take a peek at this cover of Ben E. King's Stand By Me as sung by legendary Iranian singer Andranik "Andy" Madadian and Jon Bon Jovi together with Richie Sambora and Don Was. Jon even sings the first verse is in Farsi. Incidentally, the song is not for sale and is freely downloadable. Enjoy.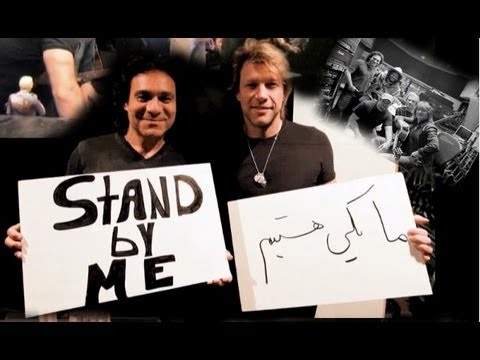 P.S. The mp3 can be legally downloaded for free here.
Posted in
History/Current Affairs
|
Comments Off